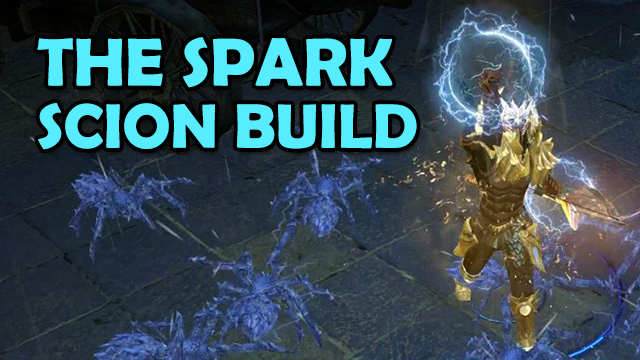 This Path of Exile build guide is for my Spark Scion created at the start of Ascendancy. It's fantastic self found with Spark + Orb of Storms Leveling and scales extremely well with things like Voltaxic Rift and Poison into the highest levels of content. I have tested it in Tier 15 Maps with great success and viewers have reported it kills Atziri with ease. The Labyrinth is a joke on this build of course. Unless they really change a lot of how spark works, projectile scaling or Voltaxic is heavily nerfed I see this staying strong for some time to come. For the full lowdown on the build be sure to check out the Spark Scion build video, otherwise there's a rundown of the gear, skills and passives below.
PASSIVE SKILL TREES
Bandits: Life / Cast Speed / Frenzy
Ascendancy: Scion Deadeye + Berserker
GEARING
HELMET: Rares with Life & Resists. Evasion/Energy Shield if possible.
BOOTS: Rares with 30% Movespeed, Life & Resists.
GLOVES: Winds of Change or Rares with Life & Resists.
CHEST: Belly of the Beast, Lightning Coil or a cheap 5/6 Link Rare with Life & Resists (Evasion if Possible).
AMULET: Victario's Acuity OR Rare with life, Resists & Cast Speed.
RINGS: Life, Resist & Cast Speed.
BELT: Life, Strength and Resists.
WEAPONS: Voltaxic Rift + Drillneck or 2x Rare Wands with Projectile Speed, Cast Speed and Lightning Damage + Spell Damage.
FLASKS: 2x Seething/Bubbling of Staunching/Grounding. Basalt Flask. Quicksilver of Adrenaline. Atziri's Promise.
JEWELS: Life + Projectile Damage/Chaos Damage/Damage + Cast Speed.
You can see my gear by clicking here and going to SparklyD.
SKILL GEMS
SPARK (with Voltaxic Rift)
Spark (15%+ Quality)

Pierce

Echo

Poison

Controlled Destruction

/

Added Chaos (Q)

/

Innervate

/

Faster Projectiles
SPARK (with Wands)
Same as above just substitute

Poison

for

Lightning Penetration
VAAL HASTE + GRACE
Vaal Haste

Vaal Grace

Faster Casting

Increased Duration (Q)
VAAL SPARK (If You Cannot Afford Haste+Grace)
Vaal Spark

Pierce

Echo

Poison

/

Lightning Penetration
CAST WHEN DAMAGE TAKEN
Cast When Damage Taken (Level 7)

Increased Duration (Level 20)

Immortal Call (Level 9)

Chaos/

Stone Golem

(Level 9)
HERALD CURSE SETUP
Herald of Thunder

Curse on Hit

Warlord's Mark

Clarity
MISC GEMS
Blink Arrow + Faster Attacks (or Blood Rage if No Acuity)

Flame Dash + Faster Casting

Arctic Armour

Rallying Cry
If you have any questions please feel free to direct them to me in the YouTube comments of the build video or on Twitter. Hope you guys enjoy the build!
Cheers,
ZIGGYD