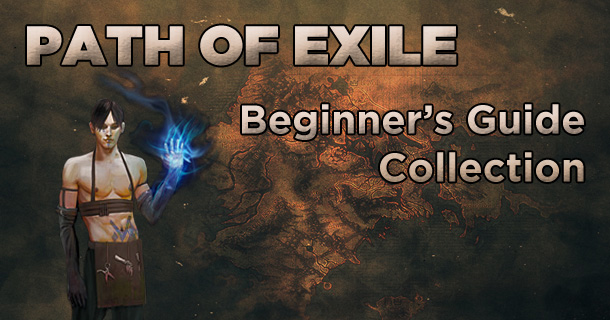 Path of Exile is an amazing game, I feel it defines the modern Action RPG genre in the same way that Diablo 2 did back in the early 2000's. However, it's also an extremely complex beast aimed at a 'hardcore' player base.  While this 'no-holds-barred' approach to design is crucial to PoE's longevity it also makes it difficult for beginners to really get hooked into (it doesn't really even have a tutorial to speak of).
Towards the end of closed beta I saw the potential of Path of Exile and I also saw how harsh it was to beginners – I was one myself at the time after all. As such, I've made it my mission to break down the game  as simply and fully as possible in a long running series of guides on YouTube. What you'll find in this article is a list of the guides that will best help you when you are first exiled to Wraeclast.

What is Path of Exile? – The Beginner's Quick-Start Guide & Mechanics Overview
I made this video around launch as a starting point for people to begin their understanding of exactly what Path of Exile is and to give an overview of the basic game mechanics. Consider it your guide to what you will be learning more about in the future.
To date more than 38,000 people have watched this video and I like to imagine that many of them are now better players than I am.
In a similar theme I also made a video that compares Path of Exile to Diablo 3. If you are coming over to PoE from the Diablo series then it should serve as a good explanation of the differences between the games.
PoE's Basic Mechanics Explained (In Under 3 Minutes Each)
In the lead up to launch I made this series to explain some of the game's mechanics with the goal of making the most concise videos possible. I ended covering most of the basics in under 3 minutes, so if you just want to get some information quick then these videos are for you.
How to Create Your Own Builds & A Recommended Beginner's Build
How you build your character in Path of Exile is vitally important. While you can get through the first difficulty with virtually no planning it becomes almost impossible to progress beyond that point unless you have an idea of how your character will work in terms of skills, gear and the passive skill tree. This first video shows you how to go about planning a build that will actually work.
The important thing to remember is that Path of Exile is a game of trial and errors. Creating builds that end up being a spectacular failure is a big part of how you learn the game and become a better player. Even the best players have created many builds that simply didn't work out like they'd hoped.
That all said, sometimes you just want to get into the game, smash some enemies and see what the end game is like. If this sounds like you then here is a recommended build that is fairly easy to play and set up that is more than capable all the way through levelling and in the end game.
This is the original video pre 1.2 patch.
With the 1.2 Forsaken Masters patch this build actually became stronger. With the removal of shock stacks the Arc + Spell Totem is less important, using Vaal Storm Call is a solid alternative.
This is the 1.2 update video.
The beginner's Arc Witch has a spreadsheet for additional information.
Trading, Vendors & Building Up Wealth
One thing that even a lot of experienced players have trouble with is trading and building up wealth. There is no auction house in Path of Exile and this is both a blessing and a curse. One the one hand you will meet with and talk to other players to trade, which fosters a real sense of community. And on the other hand, you have to meet with and talk to other players to trade, which can sometimes be time-consuming and difficult to do. The following guides cover how to go about trading and also a few vendor tricks that you can take advantage of.
More Trading and Wealth Building Videos:
Getting More From the Game
Hopefully this series has armed you with the knowledge you need to really get stuck into and enjoy Path of Exile. There is a huge amount of depth to this game that you only really start to discover once you've been playing for a while. If I've helped you break down whatever barriers were preventing you from enjoying PoE and discovering that depth then I've achieved what I set out to do! I'll leave you with one last video that talks a bit about how I get the most out of PoE.
If this or any of my other content has given you value then please consider checking out my supporter page to find out how you can help ZIGGYDTV grow!