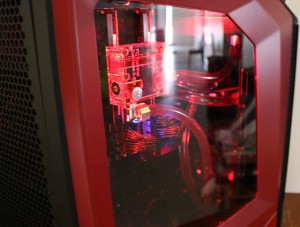 On this page you will find a list of the hardware I use for gaming, streaming and making YouTube videos. Live streaming and video editing are particularly hardware intensive, especially with video games, so a well optimized setup is important. I am not an expert when it comes to computing hardware but over the past 5+ years I have had a fair bit of experience with what works (and what doesn't!). I'm often asked what is the most important piece of hardware for streaming and YouTubing and it is, without a doubt, your CPU. Encoding is hard on CPUs, and a slow or inefficient CPU will be a massive bottleneck in video creation as well as making it impossible to stream with a good clear picture. Read on for the hardware I currently use.

I am now sponsored by AMD! I have been provided immense support by AMD in the form of a long term sponsorship including a PC that is custom built for high-end gaming, streaming and making YouTube videos. Through this sponsorship I am able to produce better gaming content more quickly, stream at higher qualities and play better games on higher graphics settings. Check out the video and list below to learn more about how AMD is helping to power ZiggyD.
8 Core, 4.0/4.3 GHz processor. Overclockable with AMD Overdrive. Performance oriented towards intensive applications like video editing and streaming.
Two AMD R9 Fury X linked together using Crossfire Technology. High end performance for 4k gaming and VR ready.
Plenty of RAM for the 50 or so browser tabs I usually have open at once.
SSD for OS and games. Stream vods and videos are directly recorded to HDD to prevent bottlenecking.
1200 Watt Fully Modular power supply.
With Sentinel Lightning Control this case was provided by Origin PC in Australia, who built and tested this full setup in collaboration with AMD. This case is large and built to accomodate a dual graphics card setup with water cooling and plenty of fan cooling with space to spare. Oriented with HDD expansion bays in the front and cabling on top for easier management.
You can learn more about this sponsorship in my AMD Sponsorship announcement video.
Learn more about how I handle sponsorships and promotional content on my personal code of ethics page.