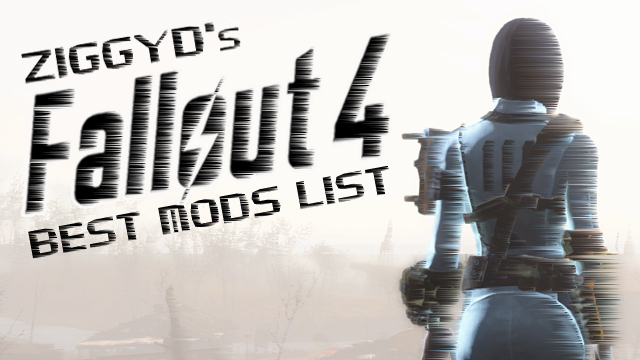 G'day guys! This is a list of Fallout 4 Mods that I personally use or recommend. Modding is a huge part of what makes Bethesda games so good, you start with a great sandbox game and get to customize and build it up however you like. From texture mods to make everything look a little nicer, to complete gameplay overhauls for new playthroughs there's 1000's of good reasons to get addicted to modding. As I find and add awesome mods I'll try and add them here so make sure to check back later! Want to suggest a mod? Contact me!
To download and install any mod from this list just click on the link to go to the Fallout 4 Nexus page or Steam Workshop. I highly recommend using the Nexus Mod Manager and consider supporting Nexus with a subscription if you enjoy their service. Don't forget to endorse good mods and consider donating to the creator's to support their work!
My mod list follows this format: Mod Name by Authorname – "Ziggy's Description"
Texture Mods
These are typically the easiest and safest mods to use, they can generally be installed and uninstalled without any risk to save files. They can be as simple as recolors of existing items or full handcrafted texture overhauls. I tend to prefer texture mods that are reasonably lore friendly, immersion boosting and generally fit my idea of what the Fallout universe should look like. Or sometimes I just get things that look cool!
Commonwealth HQ Landscape Overhaul WIP by Printerkop – "A super realistic overhaul of ground terrains, jarring at first but well worth it".
More Realistic Handmade Pipe Weapons by AlexSlesh – "Gets rid of the weird orange and makes them greasy, smoked and awesome".
ScratchMade – New Double Barrel Shotgun by Millenia – "A super detailed realistic retex of the Shotty".
ScratchMade – New Combat Shotgun & Rifle by Millenia – "The same beautiful attention to the combat weapons".
Enhanced Blood Textures by dDefinder – "Much darker and more realistic blood splatters".
Better Recon Scope by Groko4557 – "Fixes the horrible cream recon scope".
Fallout texture Overhaul PipBoy UHD 4K by Gorgulla – "A super detailed retex of the pip boy, beat up and rusty".
Modernized Vault 111 Jumpsuit by SkyWest1218 – "The awesome white suit used in my F4 PermaDeath Playthrough".
Proto Vault Suit by nitronizer – "Another great modern looking vault suit retex".
Immersive Attire Fix by Ceo – "Recolors for the underwear, I use plain black".
Gameplay Changes & Tweaks
Changes to the mechanics & balance of the core game. Some convenience & quality of life fixes, others are simply preference changes. Just about making Fallout 4 more fun to play. Depending on the depth of the changes these can affect savegames, create backups and make new save files.
Easy Hacking by zilav – "I hate the hacking mini game, this only shows the right answer".
Higher Settlement Budget by GrimTech – PatrickJr – "A batchfile that you can use to remove the limit on settlement construction".
Unlock All Hairstyles at Game Start by Ayvis – "More hair choices. Having these as locked at start is pretty annoying".
Re-Ballistic – Realistic Weapons & Ammo Overhaul by Tomdboss – "Renaming, rebalancing and all round making for a more realistic combat experience".
Craftable Ammo by kr1ck – "Does what it says, works with Re-Ballistic too!"
True Storms – Wasteland Edition by fadingsignal "A big immersion boost, much better sound and visuals to storms!".
UI Changes
Changes to the menus and on screen displays of information.
Pleasant UI by ImBlindMG – "More compact, less console-like UI".
Full Dialogue Interface by shadwar – "I don't personally use this but for those who hate the dialogue wheel this replaces it with full text. Check out my video on the Full Dialogue Interface Mod".