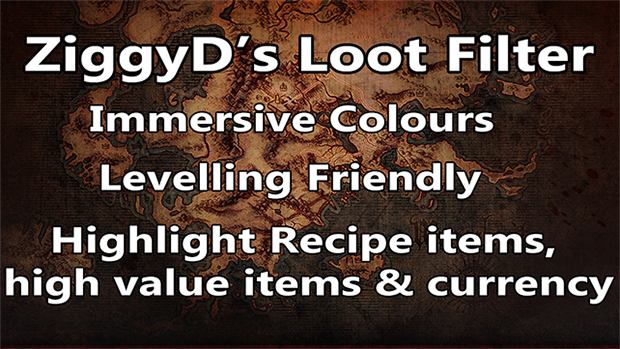 ZiggyD's loot filter is designed to be a broad purpose learning aid that stays close to the default colours in Path of Exile.
The filter is levelling friendly, hiding lower base items as you enter higher level zones and reducing screen clutter.
Some items are given extra attention by the filter so players can learn vendor recipes and chance orb bases while high value items and currency are highlighted to ensure you don't miss those sweet drops!
Item Filters are a feature implemented and endorsed by GGG, released with the Path of Exile: The Awakening expansion.
Current Version: v2.6.1 LEGACY

Orign and Aims of this Loot Filter

This video features version 1.0 of ZiggyD's loot filter, while the filter will be updated and evolve this explains the core aims of this filter.
Installation
This video explains how to install a loot filter.
I also wrote a quick guide which you can expand to read. Many people have trouble either because the file was in the wrong folder or because their folder was not showing extensions.
How ZiggyD's Loot Filter effects items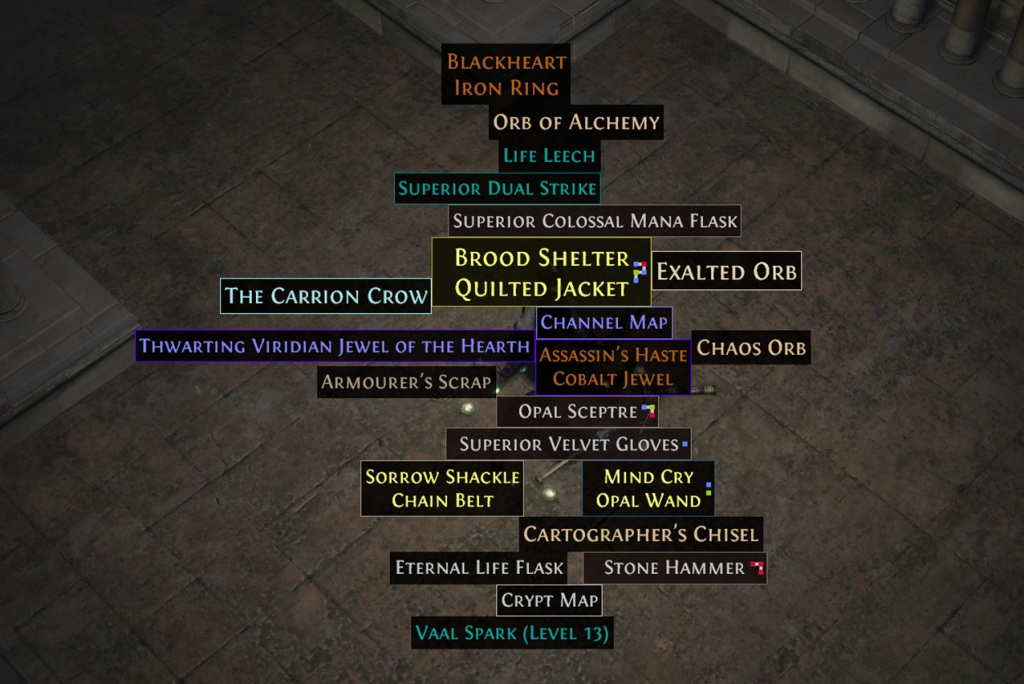 The Basics
ZiggyD's loot filter stays close to default colours and doesn't hide any items until level 12 zones. From level 12 zones onwards the filter will hide low normal base items and at level 22 it starts hiding low level magic base items too. Rare items are always shown since these may be useful even with low bases or can be traded to the vendor for currency.
Until level 60 zones all flasks are shown, at higher levels the filter gives higher tier flasks preference. 3 linked items are always shown until level 32 zones and 4 linked items are always shown until level 68 to help with finding linked gear while levelling.
Normal bases that can be chanced into good uniques gain a border at Item Level 60. You can chance these beforehand but if you chance a bad rare item it can be used in the Chaos or Regal recipe. Good jewellery bases are also always shown for their crafting value throughout the game.
Currency gets larger and gains a border at the higher tiers on top of this, very valuable items such as high tier currency and 6 link items have a different sound.
The following items have borders around them to indicate they are part of a vendor recipe wiki. The items chosen for the border are valuable in different points of the game, this is roughly indicated by the size of the text as you may notice in the above picture.
20% Quality Items
Chromatic Items (an item with red, blue and green sockets that are linked)
Stone Hammer
5% and over Flasks
5% and over Gems
Rares with an item level between 60-74
Rares with an item level of 75 an over
IMPORTANT NOTE FOR WARBANDS
Warbands monsters drop league specific gear. This cannot be differentiated by the loot filter. Make sure you SHOW ALL loot after killing warbands monsters to see if their special items have dropped. These are magic items. Fire warbands drop Headgear, Cold drop Footwear and Lightning drop Gloves. I do not know yet what the Chaos warbands drop. Read more on the Warbands
wiki
.
To show hidden items you need to hold the "Show All" key (default Alt) which is different to the show/hide items toggle (default Z). Hidden item tags will appear small and translucent.
This is a screen capture of some items while holding the Show All key.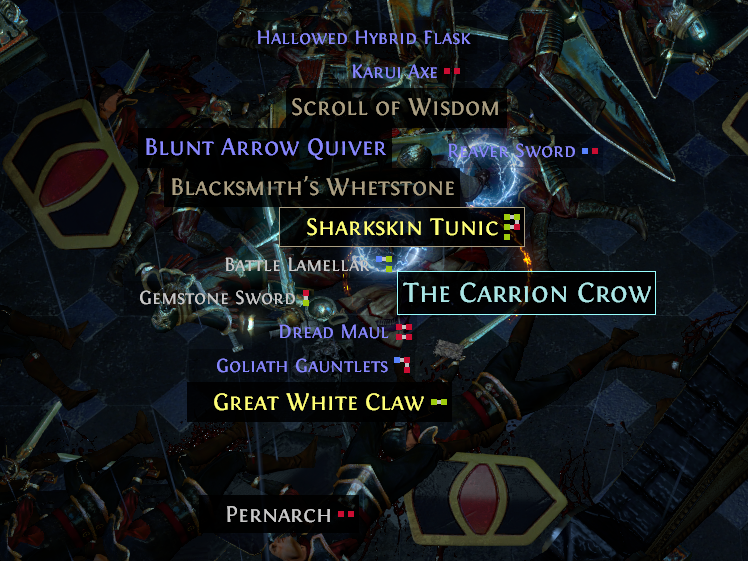 The More Technical Stuff
Here I'm going to explain the filter a bit more in depth. I'll try to keep this reader friendly for those who can't glance at the filter code and immediately understand how it works. This should help explain how the filter decides an item is hidden.
Comprehensive Loot Filter Features List
Rules further down in the list may override those above them.
Change Log
The above notes where created off of version 1.1 of ZiggyD's Loot Filter. The following are notes of the changes made from version 1.0 until now.

Please share any feedback or suggestions in the comments below so I can continue to improve this filter! It was crafted not just for me but also for the community.