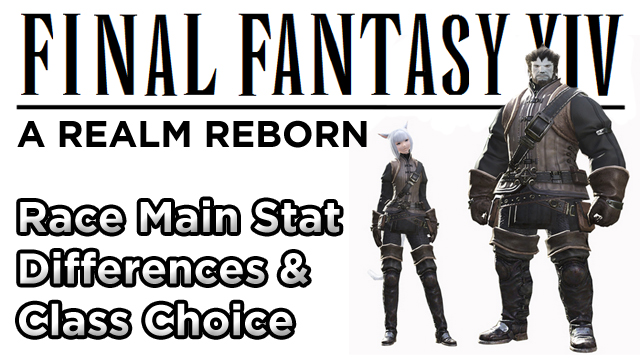 To get this out of the way nice and early on: the differences between the races in Final Fantasy 14: A Realm Reborn are very, very small. In most cases it's less than 0.5% difference at end game.
If you aren't the sort of player who is interested in min-maxing your characters then just don't worry about the stat differences and pick the race that appeals most to you aesthetically, or that you feel you can roleplay best as.
With that in mind, let's min-max this to find which race and sub-race is best for which classes!
The Races / Sub-Races & Their Stats
A bit of a theme you will notice with the subraces is that there is always one that leans more towards fighter classes and one that leans more towards magical casters. The good news here is that with the character customization system the visual differences between the subraces can easily be overcome. So, if you want to play a character with the stats of a Hyur Midlander that looks like a Hyur Highlander you can easily do so!
Hyur (Midlander) – 21 STR, 19 DEX, 20 VIT, 21 INT, 18 MND & 21 PIE.
Hyur (Highlander) – 23 STR, 20 DEX, 22 VIT, 18 INT, 20 MND & 17 PIE.
Elezen (Wildwood) – 19 STR, 23 DEX, 18 VIT, 22 INT, 17 MND, 21 PIE.
Elezen (Duskwight) – 20 STR, 20 DEX, 19 VIT, 23 INT, 23 MND, 18 PIE.
Lalafell (Plainsfolk) – 18 STR, 22 DEX, 18 VIT, 21 INT, 20 MND, 18 PIE.
Lalafell (Dunesfolk) – 17 STR, 20 DEX, 17 VIT, 21 INT, 22 MND, 23 PIE.
Miqo'te (Seekers) – 21 STR, 22 DEX, 20 VIT, 18 INT, 19 MND, 20 PIE.
Miqo'te (Keepers) – 18 STR, 21 DEX, 17 VIT, 19 INT, 23 MND, 22 PIE.
Roegadyn (Sea Wolves) – 22 STR, 18 DEX, 23 VIT, 17 INT, 21 MND, 19 PIE.
Roegadyn (Hellsguard) – 20 STR, 17 DEX, 21 VIT, 20 INT, 22 MND, 20 PIE.
Which Stats Are Important For Which Classes?
From all of my research and testing so far it seems like FFXIV isn't putting too much emphasis on your stat set up and that secondary stats are only going to have a small effect on your character. At this point it looks like simply optimizing 100% for your main stat may be the way to go. This could, of course, change after release as more information is discovered but it seems unlikely. As such, let's take a look at each of the classes and what should be considered their main stat.
Marauder / Gladiator – Vitality. These are both tanking classes and their primary role is to take as much damage as possible and vitality is going to help with that. Sure these classes could focus on STR for some more damage but that is not their role, the DPS classes should have that more than covered. What's the point of a party with 2.5 DPS characters and 0.5 tanks? Everyone will probably die in a set up like that.
Pugilist / Lancer – Strength. These are your melee DPS classes and their primary purpose is to deal as much damage as possible – strength gives you that. Sure it's nice to be able to take the occasional hit but you should be able to avoid most damage if you are keeping an eye on how much threat you are producing and if your party is working well together so VIT shouldn't be necessary to focus on.
Archer – Dexterity. This is your ranged DPS/support class and DEX gives you damage with bows, pure and simple. Archers should be both out of range of most damage and be spreading their threat around so as to not attract attention. As such, no VIT should be necessary.
Conjurer – Mind. Conjurer derives both their healing power and damage when in Cleric stance from their Mind stat. This one is the most clear cut out of any of the classes.
Thaumaturge – Intelligence. Some Thuams fill the healing role occasionally but their primary role seems to be support and added DPS. INT gives you spell damage so it's probably going to be the most useful.
Arcanist – ???.

I simply don't know enough about this class yet but it looks like they will probably be able to go either INT or MND. 
Which Race is Best for Which Class?
Marauder / Gladiator – Roegadyn Sea Wolves with a VIT stat of 23. Hyur Highlanders come in at #2 with 22 VIT.
Pugilist / Lancer – Hyur Highlander with a STR stat of 23. Since this race also has the second highest VIT stat they seem like a pretty well-rounded choice. Roegadyn Sea Wolves are runner up here with 22 STR.
Archer – Elezen Wildwoods with a DEX stat of 23. Runner-ups for Archer are Lalfell Plainsfolk and Miqo'te Seekers of the Sun with 22 DEX.
Conjurer – Miqo'te Keepers of the Moon with 23 MND. Runner-ups are Lalfell Dunesfolk and Roegadyn Hellsgaurd with 22 MND.
Thaumaturge – Elezen Duskwights weigh in as the number one choice here with 23 INT. Runner-up is the Elezen Wildwoods with 22 INT.
Arcanist –

 Possible choices are the Elezen Duskwights if you want an INT focus or the Miqo'te Keepers of the Moon for a MND focus.
As mentioned earlier it seems like a single stat focus will win out. However, some of you might like to go for a more balanced approach like optimizing for max STR/VIT or max MND/PIE. If you'd like to find out the best races for these dual stat approaches then you can check out my race stats table in my FFXIV Mastery Spreadsheet.
Having Trouble Deciding on a Class to Play? Check Out the Video Below!
If you are looking forward to FFXIV guides in video format then make sure you subscribe to my YouTube channel!