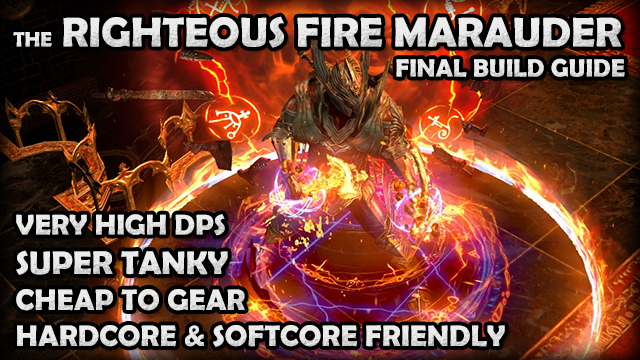 This build has been tested for 1.2 and the passive tree has been updated, some information in the article still needs updating. Righteous Fire in 1.2 is much weaker (at least with the new tree tested below).
G'day and welcome to the final guide to the Righteous Fire Marauder Build! This build was my first ever attempt at a "7 Day Build Project" where I aimed to plan a build, level, gear up & farm the highest level content in the game in under a week. Well I'm happy to say the project was a resounding success! I was able to take a level 1 Marauder on day 1 and turn him into a powerhouse by the end of Day 7 easily farming Level 78 Palace Dominus, double Shrine Piety and pretty much any other endgame map I was able to get my hands on! I even took on Atziri, though didn't quite make it through on my first attempt (but I'm confident I can do it with a little more practice!).
I was actually blown away by just how powerful this build turned out to be despite how cheap it was to gear. I felt like a character wearing 50+ Exalts worth of gear but in reality I have spent less than 4 Exalts at level 85. And this bought me over 30,000 DPS and 6,300 HP.
Before starting this project I had always avoided playing a Righteous Fire character because I believed they were extremely expensive and complex gear. Turns out you can switch to Righteous Fire at level 65 with only one item – the Rise of the Phoenix unique shield. In Ambush I only paid 1.5 Exalts for this item, which I showed on Day 3 of the project is very easy to farm up over using this very character – no bankrolling from a previous magic find character needed!
The whole point of this project was to show in extreme detail how you can get your own Righteous Fire Marauder up and running, so let's get stuck into it!
Final Build Guide & Overview
The following video is the final build guide. If you want to know how the build works at endgame or even if you just want to decide whether it's the right build for you then I recommend starting here!
Passive Skill Tree
The switch to Righteous Fire is now delayed until around level 70 due to life changes in 1.2. We haven't done a break down of the passive tree routes yet.
Bandit Choices
Normal: Help Oak for Life.
Cruel: Kill all for Passive Point
Merciless has a few correct options. Killing all for passive points is the default decision and what I went with. If you want to farm Atziri a lot it may be worth helping Oak for the Endurance Charge for immortal call use. If you are using the Blood Dance unique for extra regen then you may wish to help Kraityn for the Frenzy Charge. The choice is yours!
Skill Gem Setup
The following is the suggested setup of gems. (Q) indicates quality is recommended. This setup is based on the use of the snapshotting technique, you can find a guide to snapshotting here. If you want to play without snapshotting you'll have to wear the Righteous Fire Chest setup and ditch the weapon switch.
Chest Armor (Snapshotted): Righteous Fire + Increased Burning Damage + Concentrated Effect + Increase Area of Effect (Q) + Item Rarity
Chest Armor (Worn): Searing Bond + Immortal Call (Q) + Blood Magic + Increased Duration (Q) + Increased Burning Damage
Helm: Reduced Mana + Purity of Fire + Grace + Vitality
Gloves: Blood Magic + Elemental Weakness + Enduring Cry
Boots: Blood Magic + Cyclone + Vaal Cyclone + Life Gain on Hit
Weapon (Brightbeak): Blood Magic + Leap Slam + Faster Attacks
Shield (Rise of the Phoenix): Cast When Damage Taken Level 1 + Ice Nova Level 8 + Enduring Cry Level 5
Redbeak 1 (Switch): Blood Magic + Animate Guardian + Purity of Elements
Redbeak 2 (Switch): Whatever you want to level!
Core Gear
Rise of the Phoenix – Mandatory. This is the only item that you must have to switch to Righteous Fire. Usually costs somewhere from 1.5 to 3.5 Exalts depending on the league.
Weapon Option 1 – Aurumvorax. This is the budget option, gives a lot of resists making other gear cheaper to obtain. use with Whirling Blades instead of leap slam.
Weapon Option 2 – Brightbeak. Still gives resists but also gives massive attack speed for Leap Slamming!
Chest Armor (Worn). Rare armor with highest life possible. Armor & Resists. AR or AR/EV types are best. If you have the cash a Kaom's Heart is the end goal for it's massive HP and fire damage!
Boots/Helm/Gloves. Life, Armor, Evasion & resists! Movement speed on boots isn't mandatory due to leap slam.
Rings, Belt and Amulet. Get as high life as possible! Strength also gives life if you really want to min-max. Getting cold or lightning damage on one of these will allow you to proc Elemental Equilibrium with Cyclone and Leap Slam!
Snapshotting Gear
Redbeak x2. Use on your weapon swap with low life snapshotting.
Cheapo 5 link chest. Roll for highest life possible as Righteous Fire snapshots it's damage from life as well.
Carcass Jack. Used for snapshotting. I recommend saving a ton of cash by dropping Item Rarity and only getting a 4 link. This chest is actually pretty wearable itself if you don't want to snapshot.
Dying Breath & Leer Cast. Use with Animate Guardian for their damage buffs!
Flasks
Seething Life Flask of Grounding – spam this when in danger.
Charge Recovery Ruby Flask of Warding (Curse Immunity) x2
Charge Recovery Ruby Flask of Staunching
Charge Recovery Granite Flask of Iron Skin
Charge Recovery Topaz Flask of Grounding – Switch this out with one of your warding rubies when doing maps with lightning bosses (like Atziri).
Leveling Guide
You have a few options for leveling if you have spare currency: Facebreakers, Ground Slam, Spectral Throw or Molten Strike. However, if you want the cheapest (but still super effective!) setup then I recommend the following:
Basically Ice Nova + Fire Trap into Fire Trap + Flame Blast into Flame Blast + Searing Bond. All using cheapo +1 to fire gem sceptres that you can craft at the vendor.
For more specific details on leveling this build you can follow the video below:
Final Stats
If you want to know what you can look forward to here are my stats at level 85. This is on a budget of less than 4 Exalts total in Ambush league.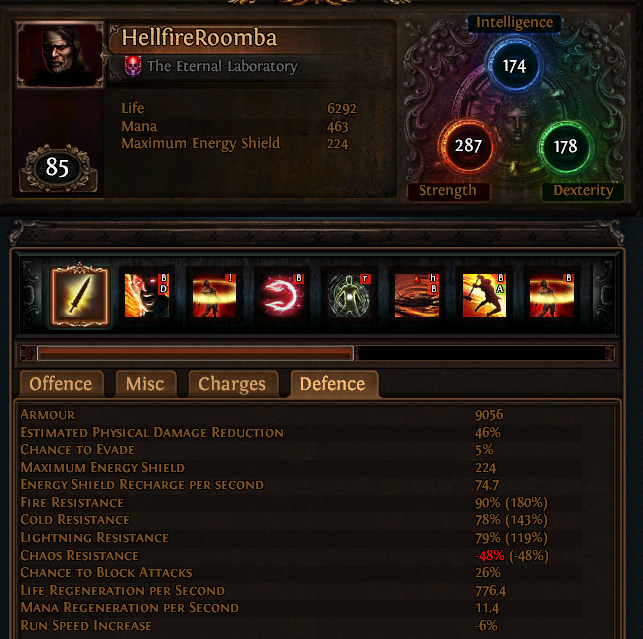 DPS on Righteous Fire isn't shown in game but can be worked out using a calculator like this. At 6,300 HP my outgoing DPS is 30,677. Against a boss like Piety with Elemental Weakness and Elemental Equilibrium up that's 46,630 DPS. For this level of currency expenditure (less than 4Exa) this is absolutely insane to me. I've spent much more for less than 10k DPS in the past.
Mapping & Other Details
For my compiled data on the build and mapping you can check out the linked spreadsheet! (Click the tabs at the bottom to go between maps and general info).
If you have any questions about the build please feel free to leave them on my YouTube, here on Twitter or on Facebook! make sure to tune into my livestream to catch future 7 Day Projects and other Path of Exile gameplay!